By Christine Lasek-White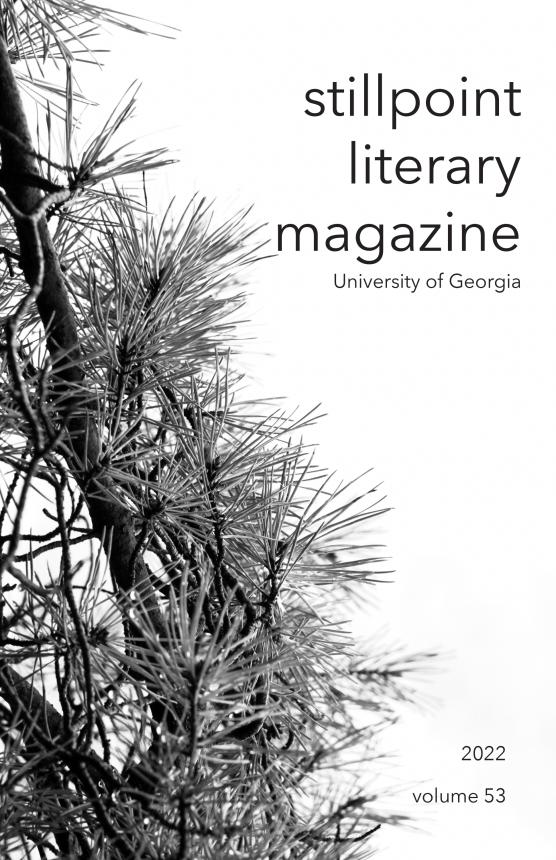 The 2021-2022 staff of Stillpoint Literary Magazine, the undergraduate student-run literary magazine at the University of Georgia, published their 53rd issue this spring. Volume 53 features over 70 pieces of prose, poetry, and art from over 30 student writers and artists.
The launch of Volume 53 was celebrated at an outdoor event on Friday, April 29th in front of the main library. Several students published in issue 53 read during the event, and a couple expressed that this issue of Stillpoint was their first-ever publication.  Images from that event can be seen here. The event was also in honor of National Poetry Month and was sponsored by the Ruppersburg Stillpoint Literary Endowment, The Georgia Review, and UGA Libraries.
Volume 53 is currently available to read online. Printed copies of the magazine will be available soon. Watch the English Department homepage for more information. Once the magazines are printed, everyone will be able to snag a copy this summer from the Undergraduate English Department Office, Park Hall 111, Monday – Friday from 11 a.m. – 4 p.m.
A number of 2021-2022 staff members are graduating this semester. A very special thank you goes out to Senior Editor-in-Chief Clary Bond, Junior Editor-in-Chief Andrew Benzinger, and Junior Editor-in-Chief and Art & Design Editor Abigail Friedel. They, with their staff, faced the daunting task of producing TWO print journals during a pandemic.
And congratulations to Anna Goellner, 2022-2023 Senior Editor-in-Chief, and Rachel Warner, Art & Design Editor, for taking over running the operation. We know you're up to the task!
Christine Lasek-White is the Assistant Director of the Creative Writing program at UGA