Image: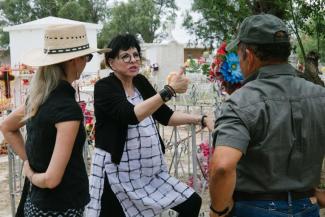 Searching for Sequoyah is a 56 minute documentary film co-produced by Eidson Chair of American Literature LeAnne Howe (Choctaw) and Canadian Ojibway filmmaker James M. Fortier. Professor Howe was also was the lead writer with assistance from Fortier and co-producer/host/narrator Joshua Nelson (Cherokee Nation).  The film will premiere nationally on PBS stations in November, 2021.
Searching for Sequoya chronicles the life and accomplishments of the legendary 19th century Cherokee visionary, Sequoyah (George Guess), through the oral stories of five modern day Sequoyah descendants.  More information on the film's website.
Also see this article by the Cherokee One Feather, "'Searching for Sequoyah' documentary to explore his life"