Image: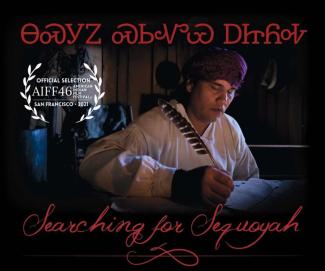 Eidson Chair in American Literature LeAnne Howe's documentary SEARCHING FOR SEQUOYAH will start airing nationwide on PBS stations on November 1st. Georgia viewers can view the local PBS schedule here.
Professor Howe (Choctaw Nation), with Producer/Director James M. Fortier (Ojibway) and Producer/Host-narrator Joshua B. Nelson (Cherokee Nation) worked on documentary SEARCHING FOR SEQUOYAH for six years. The documentary chronicles the life and accomplishments of the legendary 19th century Cherokee visionary, Sequoyah, through the oral stories of five modern day Sequoyah descendants. While much is known about Sequoyah's Cherokee writing system or syllabary, very little is known about the man himself.
According to Professor Howe: "So much has happened since we began our 'search for Sequoyah.'  I'm not talking about locating his bones, but rather finding the essence of the man, discovering more about Sequoyah, his family, and what happened when he made his last journey to Mexico seeking out other Cherokees that had removed there. One of his lineal descendants, Winnie Guess Perdue, traveled with us to Zaragoza, Mexico in search of her ancestor.  In this way, our film unites the past and present and brings Sequoyah, the man and his story, into clearer focus for viewers and scholars."
For more information about the documentary, see the film's website.