Image: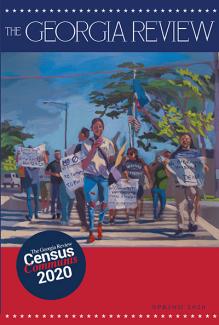 Political power, money, legitimate representation: all of these are predicated on what comes of the U.S. census. The Georgia Review's Spring 2020 issue—coinciding with Census Day—presents authors' and artists' explorations in various genres of what it means to attempt representation of the diverse communities that comprise the United States.
One of the issue's special features—"Un-Redacted: A Census of Native Land"—presents readers with a collection of writings by Native authors on the legacy of settler colonialism in the United States.  Curated by Professor LeAnne Howe and PhD student Nathan Dixon, this feature includes poems, essays, collages, maps, a play, and a circular timeline, all of which refuse the hegemonic compression of traditional "history." Featuring Muskogee Creek, Cherokee, Chickasaw,  Choctaw, and mainstream writers' work, the feature indicts the redacted history taught in American grade schools and rejects the linear narrative of setter colonialism in favor of a poetry of renewal.   
The Georgia Review is making pdfs for the spring issue free to instructors reconceptualizing their classes for online.  More information available here.