Image: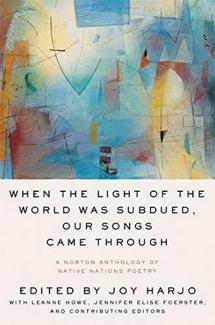 University of Georgia Eidson Chair of American Literature LeAnne Howe (Choctaw) has coedited WHEN THE LIGHT OF THE WORLD WAS SUBDUED, OUR SONGS CAME THROUGH: A Norton Anthology of Native Nations Poetry, the first comprehensive collection of Native poetry.  The collection gathers work from the seventeenth century to the present, representing more than 160 poets from 91 indigenous nations.  The book will be available from W. W. Norton & Company August 25, 2020 and is $19.95.
Coeditors along with Professor Howe include two-term United States Poet Laureate Joy Harjo (Muscogee (Creek) Nation) and Poet Jennifer Elise Foerster (Muscogee (Creek) Nation). The anthology is organized according to the Muscogean directional path, starting in the East—the direction of beginning—then moving North and continuing West and South. Contributing editors introduce each of the five geographically organized sections.
Events will be held to celebrate the release of this groundbreaking anthology, including the yearly American Indian Returnings (AIR) lecture, which will feature coeditor Foerster, on Thursday, Sept. 24th at 4:15 p.m. over Zoom.  More info on that event here.