Image: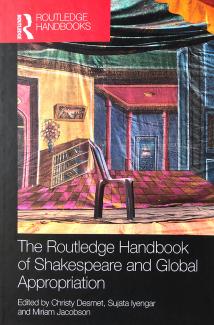 Dr. Sujata Iyengar and Dr. Miriam Jacobson announce the bittersweet launch of the 470-page Routledge Handbook to Shakespeare and Global Appropriation, which they co-edited with the late Christy Desmet and have dedicated to her memory.
The volume includes 39 ground-breaking essays on such topics as Shakespeare in manga, mobile games, and podcasts; Shakespeare and global justice, environmentalism, and white supremacy; Shakespeare on traditional and avant-garde stages; and teaching Shakespeare with, to, and for children and young people. It also includes a previously unpublished early Arabic translation of Shakespeare's sonnets, an archive of a century of Irish Shakespeares on stage, and an introduction richly contextualizing Shakespearean adaptation over the past half-century. Three alternative tables of contents encourage instructors to customize the volume for their classes.
Any royalties earned by the editors will go to the Christy Desmet Memorial Fund, which supports a graduate student studying British Literature before 1800.
https://www.taylorfrancis.com/books/9781315168968