Image: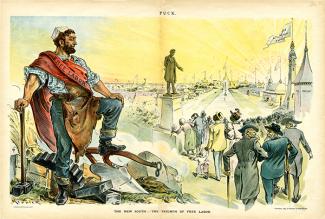 Sidonia Serafini, doctoral student of UGA's Department of English, curated for the Richard B. Russell Building Special Collections Libraries an exhibit titled The New South and New Slavery: Convict Labor in Georgia. The exhibit opens July 26 and will be on display through December. It examines the forced labor of prisoners in Georgia from the start of the convict lease system in 1868 until the abolition of the chain gang in 1945. The exhibit uses penitentiary reports, lease contracts, correspondence, and newspaper articles to expose the motivations of the businessmen and politicians who created these systems and to illuminate the lives of prisoners who toiled within them. Cultural productions, including autobiography, literature, film, and songs reveal the many ways prison labor has come to be represented in American memory.
https://www.libs.uga.edu/node/2055
Illustration: 
Info for illustration: "The New South -- The Triumph of Free Labor" published in Puck, 1895. Collection of Georgia Images, Hargrett Library. This illustration was meant to portray a changed, free South. In reality, the grounds for the Atlanta Cotton States Exposition were cleared largely by black prison labor.