Image: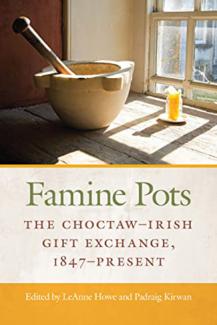 In the article "US Native tribes and Ireland's 170-year-old connection is renewed in the pandemic," Vox reports, "When members of the Choctaw Nation heard about the struggles of the Irish in the Great Famine in 1847, the tribe gathered up about $170 — $5,000 in today's dollars — to send overseas for "the relief of the starving poor of Ireland."
That 170-year-old act is being remembered, and, in some ways, returned, during the coronavirus pandemic. Small donations from places like Cork, Limerick, and Dublin have poured in after a GoFundMe to support the Navajo and Hopi nations went viral in Ireland earlier this month."
This has also been written about in Time Magazine, in the article "Irish Donors Are Helping a Native American Tribe Face the Coronavirus Crisis. Here's the Historical Reason Why."  According to the article, Irish donors have shown an outpouring of generosity to the Navajo Nation, which has been severely hit by COVID-19.  This support has drawn attention to a moment in the past: During the Irish potato famine, the Choctaw Nation sent $170 ($5,000 today) of relief aid to the Irish people, despite facing hardship themselves. 
The Choctaws' act of goodwill was never forgotten by the Irish, and a close bond between the two groups has persisted historically. University of Georgia Eidson Distinguished Professor of American Literature LeAnne Howe (Choctaw) has co-edited a book about the event titled Famine Pots: The Choctaw Irish Gift Exchange 1847-present, forthcoming from Michigan State University Press.
According to Professor Howe, "I learned about the Choctaw sending money to the Irish from my mother. She told the story that she'd been told; how the people of Ireland were starving, so the Choctaws took up a collection and sent money to help them buy food.  I admit I'm still amazed, and proud of our history.  So when I met scholar, Padraig Kirwan in the UK many years later, we decided to collaborate on a book about the event."