Image: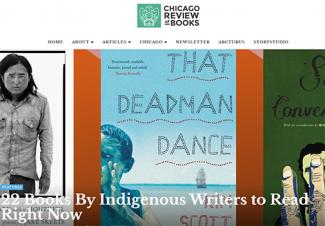 The Chicago Review of Books created a list of 22 books by Indigenous authors to read during Native American Heritage Month.  Included on the list was Eidson Professor of American Literature LeAnne Howe's SAVAGE CONVERSATIONS. 
About the list, Professor Howe writes:
 "I find television very educating. Every time somebody turns on the set, I go into the other room and read a book." – Groucho Marx.
I laugh every time I think of Groucho Marx with a book is in hand.  My best images of him come from the 1933 comedy Duck Soup.  Oh, I know what you're thinking, A Night At the Opera, 1935 is hard to beat.  Yeah, that one kills it, too.  Hard to choose, I know.  However the truth is Groucho Marx was an intellectual and a voracious reader, as well as an American writer, stage and screen and radio star, and television host.
 I often have imaginary book chats with Groucho.  They go something like this. 
"What are you reading?"  
"War and Peace," he says, taking the hand rolled Cohiba cigar out of his mouth. "Saves me watching the impeachment hearings."
(I'm gonna have to try that.) 
This season the Chicago Review of Books has posted a terrific list of new and newly released Native and indigenous novels and poetry for this season.  Check it out.  I know somewhere out there Groucho's already ordered a stack of new Native novels to be delivered to his new digs.  He told me so.
LeAnne Howe