Image: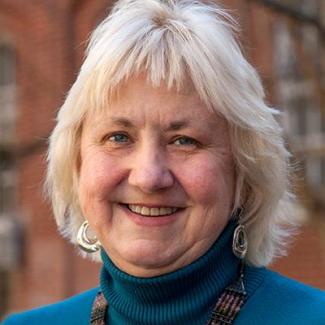 It is with the greatest sadness that we announce the untimely death of Christy Desmet, Josiah Meigs Professor of English, Director of First-year Composition and Director of the UGA Writing Centers, co-founder and co-General Editor of Borrowers and Lenders: The Journal of Shakespeare and Appropriation and Associate Editor, International Journal of ePortfolio. Christy joined the UGA English Department in 1984, having earned her PhD at UCLA under the direction of Richard Lanham. She reached the rank of Professor in 2008 and was appointed Josiah Meigs Distinguished Teaching Professor of English in 2011, in acknowledgement of her outstanding and life-changing work with students of all levels, ages, and abilities.
Christy  suffered a major heart attack in late May, the side-effect of cancer treatment she underwent some eighteen years ago. She rallied miraculously over the summer, continuing to write, travel locally, edit, and plan her graduate seminar for the Fall semester as usual. Early this week, however, Christy suffered a second, and fatal, heart attack. She passed away quietly on Wednesday, July 25th, with her loving husband David Schiller, devoted brother Clark Desmet, and faithful terrier Ascot Rosemary Plum Desmet at her side. 
She will be tremendously missed by faculty, students, staff and administrators from UGA, and by Shakespeareans and Writing faculty worldwide. Her husband is not able to answer all the phone calls this note might elicit, but he would welcome email or letters from Christy's colleagues. And please adhere to Christy's own request during her illness this summer: "No food, no plants."
Christy -- known as Dr. D. to many -- will be sorely missed by her family, colleagues, and her students. The Department of English would like to gather memories from you in our annual newsletter. Please send your thoughts to Dr. Roxanne Eberle (eberle@uga.edu).
Please join us for a memorial service on September 28th at the University Chapel at 4:00. A reception will follow on the Park Hall Patio.
To read Dr. Sujata Iyengar's note on Christy Desmet in full, please see her Facebook page.