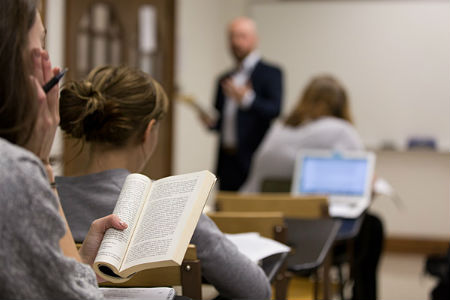 Support the English Department!
The Department of English at the University of Georgia is a rich, rewarding place to study and teach, thanks to the gifts of alumni and friends. Our generous donors sponsor departmental awards for teachers and students, fund visiting speakers, and support student and faculty research. With your help, we can expand our intellectual vibrancy and make the University of Georgia the South's literary center. Honor those who helped shape your love of literature by making a gift today!
To donate to the department by credit card, please follow the links below. To donate by check, please mail to: UGA Foundation, 394 S. Milledge Avenue, Athens, Georgia 30602-5582 and specify which fund. You can also contact Wendy Aina, Assistant Director of Annual Giving at 706-542- 3581 or aina@uga.edu
Jane McMullan Academic Support Fund
The purpose of the fund, named in honor of Jane McMullan, is to provide support for the professional development of undergraduate and graduate students in the English Department, including funds for conference travel and registration, research costs, visiting lecturers and entertainment, student training and other appropriate expenses.
Martha Munn Bedingfield Teaching Award
The purpose of the fund shall be to underwrite the Martha Munn Bedingfield Teaching Award. The Award shall recognize Department of English faculty (of Full, Associate, or Assistant rank) for the pursuit of excellence in teaching. A faculty member should be selected who has made a distinct difference in the intellectual lives of students through effective and creative instruction and/or course development.
Rodney M. Baine Lecture Fund
Rodney M. Baine Lecture Fund - To create a lecture fund to enrich the department of English of the Franklin College of Arts and Sciences.
Looking for further giving opportunities? Please see a partial list of English department funds.