Image: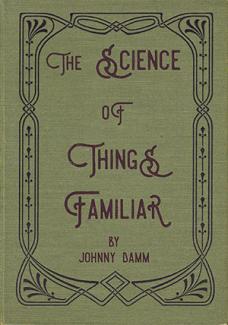 The University of Georgia English Department is home to more than 85 M.A. and Ph.D. students, studying a range of creative and critical work—from creative writing to literary to language studies. This wildly accomplished group of students consistently publish, win awards, and achieve other accolades in their fields of study.  Below are a listing self-reported accomplishments from the Spring 2017 semester.
Johnny Damm's book, The Science of Things Familiar (The Operating System), was released in February.  Publisher's Weekly said of the book, "There's really no way to describe the experience of reading this book as it juxtaposes and repurposes textbook diagrams, prose poetry, and comics panel sequences while opining on the imagined comings and goings of literary giants, failed mid-20th-century filmmakers, and the history of the blues. Damm's ideal reader is an open-minded culture junkie and fan of poetry, high art, and comics, someone with a penchant for everything from Dada to Derrida" (starred review).
Jaydn DeWald
Jaydn DeWald has two chapbooks due out in the Fall:
The Rosebud Variations: And Other Variations from Greying Ghost Press and In Whose Hand the Light Expires from Yellow Flag Press.
Kristen Jean Gleason
Kristen Jean Gleason won The White Review Short Story Prize, 2017, judged by Barbara Epler, Hari Kunzru, and Anna Stein, for her story, "The Refugee."  Read it here.
Also, her story "The Pale Pig," was published in the Winter 2017 issue of A Public Space (as an Emerging Writer Fellow). Read it here.
Lastly, her story "Neftali," will be published in the Spring 2017 issue of Prairie Schooner
Alexandra Edwards
Alexandra Edwards successfully defended her dissertation, Fanaticism, Yes! Literary Fan Cultures of the Early Twentieth Century, and graduated with her Ph.D. in May. An excerpt of her chapter on the fan mail of Marjorie Kinnan Rawlings appeared in the Journal of Florida Literature. Her chapter on fandom in magazine letter columns will appear in the forthcoming Wiley Blackwell Companion to Fandom and Fan Studies.
Connor Fisher
Connor Fisher has three poems coming out in the new issue of Typo Magazine. 
He also has a forthcoming collaboration in "7x7."
Gabrielle Lucille Fuentes
Gabrielle Lucille Fuentes was awarded a writing fellowship from the Millay Colony of the Arts for a month-long residency. Beginning in Fall 2017, she will join the Creative Writing Faculty at the University of Maryland as an Assistant Professor.
Shamala Gallagher
Shamala Gallagher received two Pushcart Prize nominations this year for recently published work--one from The Rumpus for her essay "No Wound" and one from Eleven Eleven for her poem "Want at Least Evening."
This Spring semester, she taught at the UGA Cortona study abroad program, and in May, she'll be teaching an English class in Asunción, Paraguay.
Lainie Anne Pomerleau
Lainie Anne Pomerleau won the Outstanding Teaching Award from UGA's Center for Teaching and Learning and the Alice C. Langdale award for exceptional English Graduate student.
Sidonia Rose Serafini
Sidonia Rose Serafini successfully defended her MA thesis, Exile, Identity, and New Orleans in the Southern Workman Fiction of Alice Dunbar-Nelson, and was nominated and accepted to membership of the Phi Kappa Phi Honor Society.
Lindsay Tigue
Lindsay Tigue's poetry collection System of Ghosts (UIowa Press, 2016) was recently shortlisted for the Julie Suk Award for the best poetry book of the year by an independent press, and is a finalist for both the Foreword INDIES Book Award and the Eric Hoffer First Horizon Award for a book by a debut author.
Book reviews of System of Ghosts have appeared in Green Mountains Review, Gulf Coast, storySouth,  New Orleans Review, The Literary Review, and the Birmingham Poetry Review, among other publications.
Lindsay's poems have recently appeared in Verse Daily, Poetry Daily, Oxidant/Engine, and Cream City Review. She also had a short story published by The Masters Review.
Kim Waters
Kim Waters has been awarded an 2017 Innovative and Interdisciplinary Research Grant which will provide funding in support of her research on intonation in Sapelo Island Geechee. As part of the strategic initiative to enhance the culture of innovation and inter-disciplinarity in graduate education at UGA, the Graduate School offers competitive summer research grants to doctoral students who are conducting interdisciplinary and cutting-edge research for their dissertations.
Kim's work was profiled in an interview by editor Cindy Adams in the UGA Graduate Magazine Winter 2017: "Kim Waters on Sapelo Island, a doctoral student explores an ancient language and cryptica." Find the story here.
Kim has also co-authored a chapter in a pedagogical text with Dr. Deborah Miller and English grad student Lindsay Tigue due out this month. "A sustainable narrative: Teaching 'sustainability' in first-year composition courses." In Joseph Lease (ed.) Sustainability in/and writing-intensive courses. Lanham, MD: Lexington Books / Rowman & Littlefield.
For more news from the UGA English Department, see the Park Hall Monitor, the English Department's newsletter.