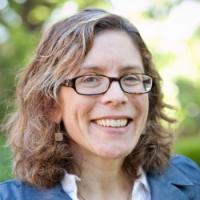 srosenb@uga.edu
(Ph.D., University of Michigan) is an Associate Professor with research and teaching interests in American literature, poetry and poetics, modernism and the visual arts, women writers, cultural and gender studies, and digital humanities. She is the author of Professing Sincerity: Modern Lyric Poetry, Commercial Culture, and the Crisis in Reading (University of Virginia Press, 2007) and is currently completing a book titled Imaginary Museums: Surrealism, Modern Poetry, and the Visual Arts, 1920-1970, for which she received a Summer NEH Fellowship (2003) and a Willson Center Fellowship. She is also in the process of publishing a collection of her essays on poet Elizabeth Bishop titled Experimental Bishop. With Nell Andrew in Art History, she co-directs the Interdisciplinary Modernisms Workshop, a Willson Center Research Cluster (http://willson.uga.edu/research-clusters/international-modernism/).  She is collaborating on a Digital Humanities Platform, Digital Mina Loy, with Suzanne Churchill (Davidson College) and Linda Kinnahan (DuQuesne University).
Recent essays include: "American Women Poets and Experiment" (Cambridge History of Twentieth-Century American Women's Poetry, forthcoming 2016); "Brides Stripped Bare" (Dada/Surrealism 21.1 forthcoming); "Surrealism in American Little Magazines 1920-1960" (Oxford Handbook to Twentieth-Century American Poetry); "Mixed Feelings: John Ashbery, Raymond Roussel, Marcel Duchamp, and the Animation of Cliche" (Genre); "Reading Joe Brainard & John Ashbery's The Vermont Notebook in the Tradition of Surrealist Collaboration" (New York School Collaborations: The Color of Vowels); "An Interview with Eileen Myles" (Verse); "Elizabeth Bishop and the Natural World" (Cambridge Companion to Elizabeth Bishop); "Modernism: The Next Generation" (Blackwell Companion to Modern Poetry); and brief articles on confessional poetry and on the history of cliches (Princeton Encyclopedia of Poetry & Poetics). Earlier publications include essays on Anna Laetitia Barbauld (Studies in Romanticism), Elizabeth Bishop (Journal of Modern Literature, Reading the Middle Generation Anew), Frank O'Hara (New Work on New York School Poets), and Mina Loy and Alice Notley (HOW2). 
Recent graduate seminars include "Modernism in the U.S.," "Museums, Modernism, Memory," "American Poetry and the Everyday," "American Women Poets and Experiment," and "Elizabeth Bishop: New Perspectives."