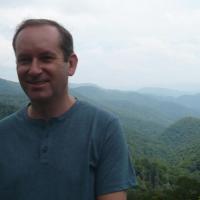 aparkes@uga.edu
Office Hours:
Spring 2017: Tuesdays, 10:45 and 3:15; Thursdays, 10:45
My research focuses on modern British and Irish literature, with particular attention to how literary texts interact with the social, political, and cultural contexts of the late nineteenth and early twentieth centuries.  At present I am working on a study of modernism and the aristocracy, which explores representations of elite culture in modernist British and Irish writing of the modern democratic age.  The literary scope of this project embraces figures from Wilde and James in the late nineteenth century to Yeats, Woolf, Waugh, Lawrence, Huxley, and Bowen in the early twentieth century.
Earlier projects include book-length studies of impressionism and censorship.  In A Sense of Shock: The Impact of Impressionism on Modern British and Irish Writing (Oxford University Press, 2011), I consider literary impressionism in relation to social and political upheavals of the modern age, especially the rise of anarchism, terrorism, and nationalism and the emergence of modern discourses of sexuality and gender.  This book includes detailed discussion of several Victorian writers (John Ruskin, Walter Pater, Henry James, George Moore, Oscar Wilde, and Arthur Symons) as well as Moderns (Elizabeth Bowen, Joseph Conrad, Ford Madox Ford, H.G. Wells, Roger Fry, Jean Rhys, and Virginia Woolf).  My first book, Modernism and the Theater of Censorship, published by Oxford in 1996 and listed by Choice as an Outstanding Academic Book, situates the fiction of James Joyce, D.H. Lawrence, Virginia Woolf, and Radclyffe Hall in the context of censorship controversies that shaped British writing in the modernist period.  
I have also written a study of Kazuo Ishiguro (Continuum, 2001) and have published articles, reviews, and review essays in Twentieth Century Literature, Victorian Studies, Modern Fiction Studies, Textual Practice, James Joyce Quarterly, and other journals.  My essay "Poet-Critic" was published in The Johns Hopkins Guide to Literary Theory and Criticism (2nd edition, 2005).  A new piece on "Naturalism, Realism, and Impressionism" appears in the Oxford volume Late Victorian into Modern, 1880-1920 (2016).
My teaching focuses on British and Irish literature of the late nineteenth, twentieth, and twenty-first centuries.  I regularly teach undergraduate courses in modern poetry and fiction, especially James Joyce, as well as surveys of British literature since 1700.  My most recent graduate seminars have studied Ulysses, Virginia Woolf, Impressionism in England, and Modernism and the Aristocracy.  
I would welcome working with graduate students who specialize in any aspect of modern British, Irish, and American literature; I am especially interested in projects that examine literary texts in relation to historical, critical, and theoretical contexts. The topics of doctoral dissertations I have supervised to completion in the last ten years include modernist women writers and the periodical press; the impact of early film on James and Conrad; mid-twentieth-century fictions of West Indian immigration; and literary animism in Bowen, Joyce, and Woolf.  I have also supervised M.A. theses on Joyce, Conrad, T.S. Eliot,and Cormac McCarthy, among others.
Education:
Ph.D., University of Rochester, 1993
B.A., Cambridge University, 1988