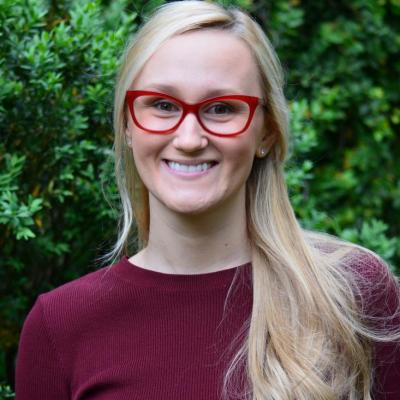 PhD Student
FYC Instructor
Contact Info
Office Hours:
TR 2-3:30PM or by appointment
Sidonia Serafini is a doctoral student and FYC Instructor. Her research centers on post-Reconstruction and early twentieth-century African American literature and the periodical press and multiethnic women's writing.
Sidonia's research examines Hampton Institute's organ, the Southern Workman (1872-1939), and the writings placed in this publication by figures across races, cultures, and nations. Her article, "Black, White, and Native: The Multiracial Writing Community of Hampton Institute's the Southern Workman," is forthcoming from The Southern Quarterly (Winter 2019). Sidonia's work also focuses on the early short fiction of writer and educator, Alice Dunbar-Nelson (1875-1935), with an emphasis on how these works address historical memory and cultural citizenship. Currently, Sidonia is collaborating with Prof. Barbara McCaskill and Rev. Paul Walker of Highgate Baptist Church in Birmingham, England, to construct an edition of the writings of the nineteenth-century activist, Rev. Peter Thomas Stanford (c. 1860-1909). This project is forthcoming from UGA Press (2019). During the summer of 2018, Sidonia curated the Hargrett Special Collections exhibit on the Georgia convict lease system, which is on display from July-December 2019.
In addition to academic activities, Sidonia's university leadership has included service as a PhD and MA Graduate Representative in the Department of English. Sidonia has served as a mentor with the Pathway to Graduate School Program hosted by the Office of Graduate Recruitment & Diversity Initiatives as well as a local school mentor for Athens-Clarke County's Mentor Program.
Education:
M.A. in English, University of Georgia, 2017
B.A. in English, Flagler College, 2014
Grants:
National
With UGA Prof. Barbara McCaskill and PhD student Kelly P. Dugan, received a two-year grant to hold two symposia on early black activism, in Birmingham, UK, and Athens, GA; supported by the Andrew W. Mellon Foundation through the Global Georgia Program of the UGA Willson Center for Humanities and Arts, 2019-2021
International
Research travel grant from The Literary Encyclopedia, 2018
Awards:
R. Baxter Miller Award in African American and Multicultural Literature, 2018
Certificate of Merit from UGA's Institute for African American Studies, 2016