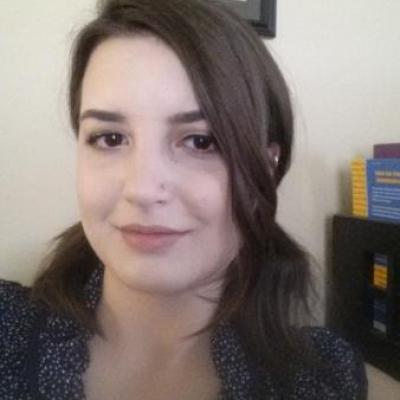 Graduate Teaching Assistant
Contact Info
Office Hours:
MWF 12:15pm - 1:30pm or by appointment
Sarah Mayo is a doctoral student in the Department of English, where she studies Renaissance Literature with a focus on medical history, performance, and occult philosophy. Her recently defended dissertation project, "Medical Practice, Medical Performance: Mountebanks in Seventeenth-Century England," explores the rhetorical and theatrical practices of "mountebanks," quack doctors who performed medicine on public stages and lured in patients and audience members through elaborate spectacles that might include the handling of snakes, dipping hands in pork grease, or (supposedly) pulling out patients' teeth using the tip of a sword. Sarah's dissertation investigates the ways such practitioners staged rituals of healing in order to exploit the faith and fear of their patients for profit. She is the recipient of an International Dissertation Research Fellowship from the Social Science Research Council, which allowed her to conduct archival research toward this project in London throughout 2018. Sarah also teaches composition in the Department of English, where her classes have dealt at various times with bargain-bin comic books, giant bug movies, celebrity memoirs, biomedical fiction, Reddit subcultures, Cretaceous time travel, and bathroom wall graffiti. 
Outside of her research and teaching responsibilities, Sarah works as a Managing Editor for the peer-reviewed, multimedia, online journal Borrowers and Lenders: The Journal of Shakespeare and Appropriation. She also operated as a project manager for the 2015 conference "Appropriation in an Age of Global Shakespeare" celebrating Borrowers and Lenders' 10th anniversary. During the same year, she co-organized a "400th Death-iversary Shakespeare Film Series" hosted through the UGA Libraries.
Sarah's second passion, next to teaching and studying literature, is watching horror and sci-fi movies. Someday (she whispers to herself), she will find a way to integrate Renaissance literary studies and low-budget sci-fi films into a single scholarly work.
Education:
B.A., University of North Carolina at Chapel Hill, 2013
Research

Research Interests:

Primary research interests include all things weird, witchy, and wacky in English Renaissance culture and natural philosophy. In addition, Sarah has written on Renaissance women's writing and epistemological reflections. 
Selected Publications

Selected Publications:

"'Printed follyes': Mountebanks and the Performance of Ambivalence within the Archive." Premodern Performance Beyond Drama, special issue of Journal of Medieval and Early Modern Studies, 51 (2021).

"Performing Power and the Power of Performance in the Bed-Space of Jonson's Volpone (1606)." Bedchamber Scenes/Scènes de lit in European Early Modern Drama, special issue of Arrêt sur Scène / Scene Focus 8 (2019).

"'What witchcraft is this!': The Postcolonial Translation of Shakespeare and Sangomas in Welcome Msomi's uMabatha." Postcolonial Interventions 1.2 (2016): 189-226.

"Grotesque Sex: Hermaphroditism and Castration in Jonson's Volpone." Renaissance Papers 53 (2014): 29-45.
Of note:
2020 - NextGenPlen [Next Generation Plenary] Presenter, Shakespeare Association of America, Denver, CO, Apr. 15-18
2019 - Christy Desmet Graduate Research Award, Department of English
2017 - Alice C. Langdale Award for Exceptional English Graduate Student, Department of English
2015 - Robert E. Park Essay Award for Most Distinguished Graduate Paper, Department of English
2015 - Best Graduate Student Conference Paper of 2014, Society for the Study of Early Modern Women
Grants:
2017-2018 - Social Science Research Council – Mellon International Dissertation Research Fellowship
2017 - Phi Kappa Phi Dissertation Fellowship
2017 - Renaissance Society of America – Bodleian Library Fellowship
2017 - Newberry Library – Short-Term Residential Fellowship 
2017 - UGA Graduate School – Dean's Award toward Huntington Library Research
2017 - Franklin College-University of Liverpool Short-Term International Research Fellowship
2016 - Willson Graduate Center Research Award 
2016 - Grant-in-Aid, Andrew W. Mellon Foundation, Folger Shakespeare Library Intensive Skills Course - Introduction to Paleography