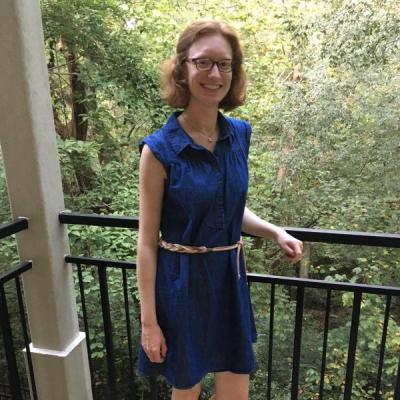 PhD Student
FYC Instructor of Record
Emily Beckwith is a 1st year doctoral student specializing in the Victorian period and the afterlives of its literature, people, and culture as seen on film, TV, and YouTube. She has also recently become interested in Welsh periodicals of the Victorian period. Upcoming panel presentations include: "Middlemarch on YouTube: Shifts in Narrative Style and Narrative Voices" at the George Eliot International Bi-centenary conference (July 2019) and "Victorian Literature on YouTube: Issues of Genre and Audience Expectations" at NAVSA (Oct. 2019). Her other research interests include folk tales and their many iterations, post colonial studies, affect theory, and 20th century British literature.
She recently presented the following papers: "In Earnest: Considering the Literary Web Series as Fanfiction" at the Pop Culture Association's national conference (April 2019), "'Vaguely Historical, Loosely Literary, Stupidly Smart Comedy' and How to Use It in the Classroom," a paper on the YouTube series Edgar Allan Poe's Murder Mystery Dinner Party, at the Victorians Institute conference (2018), "(Re)affirming Moral Boundaries: Representations of Fame in George Eliot's Daniel Deronda" (an excerpt from her MA thesis) at the BAVS conference (2017), and "An Affective Approach to Film Adaptation: Source Text Knowledge as Affect-Mediating Body" at the Midwestern Conference on Literature, Language and Media (2017).
Education:
M.A., Oregon State University, 2017.
Graduate Certificate in College and University Teaching, Oregon State University, 2017.
B.A., Carleton College, 2012. Magna cum laude.