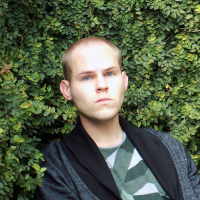 Graduate Teaching Assistant
pec83779@uga.edu
Office:
Room 25 Desk 25 Park Hall
Office Hours:
Summer 2017: MTWRF 10:20-11:30 AM
Fall 2017: TBD
Paul Cunningham is the author of the chapbook Goal/Tender Meat/Tender (horse less press, 2015), and he is the translator of two chapbooks by Swedish author, playwright, and video-artist, Sara Tuss Efrik: Automanias: Selected Poems (Goodmorning Menagerie, 2016) and The Night's Belly (Toad Press, 2016). He founded Radioactive Moat Press in 2009 and the online journal Deluge in 2012. He served as co-editor of Slippery Rock University's sixth issue of SLAB, which was awarded the AWP National Director's Prize for Undergraduate Literary Magazines in the Category of Content. He has also served as a judge for The Scholastic Art & Writing Awards, a recognition program for creative teens in grades 7-12. He is a contributing editor to Fanzine and his writing has appeared in Yalobusha Review, Fireflies Film Magazine, DIAGRAM, Bat City Review, H_NGM_N, Gigantic Sequins, Spork, LIT, Tarpaulin Sky, The Volta, Cloud Rodeo, DREGINALD, Witness, and many others. His most recent poem-film, It Is Announced (a collaboration with poet/painter Valerie Mejer Caso and photographer Barry Shapiro), premiered in the 2016 Kochi-Muziris Biennale. Other poem-films have appeared in Public Pool, the MAKE Magazine Lit & Luz Festival, Seattle's INCA (The Institute for New Connotative Action), the Museo Universitario del Chopo in Mexico City, and Kastratet (kastrate.se). He is a Princeton University INCH scholar (International Network for Comparative Studies) and he holds a M.F.A. in Poetry from the University of Notre Dame.
Education:
M.F.A., Poetry (2015) University of Notre Dame
B.A., English (2011) Slippery Rock University
Research Interests:
Translation Studies
Ecocriticism
Victorian Studies 
Posthumanism
Ultra-Baroque