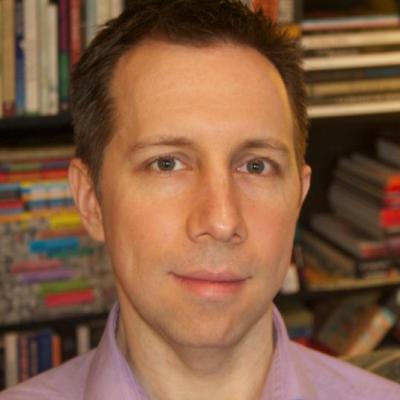 Contact Info
Office Hours:
Tuesday and Thursday 11:00 a.m. to noon and by appointment
Associate Professor, PhD Rutgers University 2008, specializes in Contemporary American Literature. His teaching and research interests include comics and graphic narratives, theory of the novel, image theory, and many genres of contemporary literature, film, and television. His scholarship has appeared in Postmodern Culture, ImageText, Extrapolation and PMLA, among other venues. His book Arresting Development: Comics at the Boundaries of Literature was published by the University of Texas Press in 2016. He currently serves on the executive committee of the MLA's Comics and Graphic Narratives forum. Recent publications include an essay on contemporary satirical comics in Comics Studies: Here and Now (Routledge, 2018), a chapter on Silver Age Marvel superhero comics in the Cambridge History of the Graphic Novel (Cambridge UP, 2018), and a chapter on the legacy of censored mid-century comics in Comics Memory: Archives and Styles (Palgrave, 2018). Forthcoming pieces include a chapter on the phenomenology of the cartoon in the Oxford Handbook of Comic Book Studies (Oxford, 2019) and a chapter on the place of comics in contemporary US fiction in Novel-Seeming-Goods: The Contemporary Novel as Network (2019).
A 2016 lecture on comics history and questions of delinquency can be found on YouTube.
A 2017 article on comics and traumatic witnessing can be read here.
A 2017 article on comics and animal studies can be read here.
Click here for a recent interview.